One of the benefits of living in a place as attractive as Whatcom County is that it draws people in from far and wide. And lucky for us, it also brought Sarah Chan—a talented chef who uses her Calypso Kitchen to share the Caribbean flavors of her native Trinidad and Tobago.
"My mom worked in the city so my grandma took care of me for the first five years of my life. Even though I didn't live with her after the age of five, I found excuses so that my parents would drop me off at her house," Chan says. Her grandmother lived a rustic lifestyle that included a backyard filled with chickens, ducks, goats, the occasional pig, and a yard full of fruit trees.
Along with dance and music, home-cooked food is a big part of the Trinidad lifestyle. With a garden full of ingredients and a gifted cook in the kitchen to emulate, Chan soaked up all the culture she could.
"I basically stayed at my grandmother's side and observed what she was doing, and it all sank right into me. It may have been the most simplistic food, but I grew up with really, really good cooking from a very young age," she says. "So eventually, I was able to replicate everything my grandma made. It just came very naturally to me."
As a young adult, Chan learned how to build a business from the ground up, a valuable skill that followed her in her travels. "As an island girl, I never had any intention of living anywhere else," she says, "but personal life circumstances brought me to New York City to seek asylum with my three daughters."
While Chan enjoyed the high energy and diversity of the East Coast, she decided to leave New York in search of greater safety and a home for her kids—both of which she found in Whatcom County.
"When we moved into a little neighborhood in Birch Bay, I remember knocking on people's doors and taking food to them. And I would extend an invitation to somebody I didn't know at all to come over for dinner," Chan says. "People were shocked at that kind of behavior, but I think they understand now that that's who I am, and it's how I grew up."
In time, that personal approach became the key to her business. "Calypso Kitchen grew very organically out of my kitchen. I was always taking a plate of food to someone or giving things out from my kitchen, and people started asking, 'Can I have this sauce?' or 'Can you make this for me?' or 'Can we do a cooking class?'" Chan says.
Seven years ago, she visited Bellingham's Community Food Co-op, knowing they offered cooking classes. "They gave me a chance, and that lead to eight classes a year," Chan says. "And that gave me the confidence to teach out of my home. A few years later I moved into a commercial cooking space."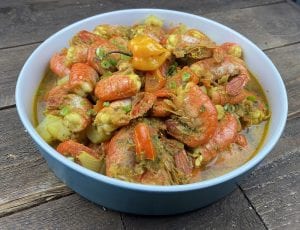 Because Chan is a natural entrepreneur, her business is constantly growing and changing. "Calypso Kitchen has been, and continues to be, an evolution of ideas: teaching classes at the Co-op and then my home, making a line of sauces and spices," she says. Getting into a commercial cooking space led to introducing those sauces and spices to the Bellingham Farmers Market, and then a website and catering.
"During the pandemic," Chan says, "I realized catering wasn't going to happen in 2020, so to do something affordable for people, I started making heat-and-eat meals that people order through the website, then pick up or have delivered."
Moving forward, Chan is excited to start a non-profit that will allow her to distribute meals to local residents in need, and introduce her products to wider audiences. "I really admire the brewing culture here—the love for beer and cider is phenomenal to me. As a small business owner, I go to these businesses and say, 'Would you like to do a collaboration, would you like to put this on your menu, would you like me to show you how to use it on your menu?'" Chan says. "So I've become friends with a lot of the people in the industry, and this has led to my new adventure, a line of hibiscus-infused beverages."
The inspiration for this new project is a flavorful concentrate she makes from hibiscus flowers. Known as sorrel in Trinidad, it is made into a sweet drink, and a more tart drink called jamaica is popular in Mexico, but Chan has spoken to people from as far away as Australia and South Africa who are familiar with other local versions. "Over the last five years I've been selling my hibiscus concentrate to restaurants and bars to use in cocktails and mocktails," she says. "Ultimately, I'd like to work with other local businesses to create a variety of beverages."
Even as she talks about sharing food regionally—and sharing her sauces, spices and beverages nationally—Chan always comes back to the one-on-one relationships that got her started. "I love an open table," she says. "I don't even have to know you—if you're hungry, if you like good food, I will have you around my table."